Responsive
Sugar is Fully Responsive. This is useful to the needs of the user by serving them a version of your site that will display correctly on their device. This is also to make sure that mobile and tablet users will be able to navigate your site properly.

Boothstrap integrated
Sugar also integrated with Bootstrap which enable you to use shortcodes and offer you with tremendous features at the same time. with Bootstrap, it bring you a different experience and a lot easier in building website.

Video Compatible
The theme compatible with Video. There is video uploader with 3 video formats available for you to upload your video file or you just can add the URL link of the video you'd like to choose like from youtube or vimeo. The video can also be use as a header background in each inner page which will bring your visitors with different experience in browsing website.

Font Awesome & Glyphicon icons integrated
Sugar is integrated with Font Awesome & Glyphicon icons which provides you with numerous icons to use. With this option you can create your site to look and feel how ever you want it to.

Boxed and Full width layout
Full width and Boxed Layout are available to choose from. This gives you the flexibility of exactly what your website layout will look like. It can be done easily by just one click from the custom Admin panel.

Theme Customizer
The ability to customize easily and faster within minutes to change site title, tagline, changing menus, changing Logo and even image background are all available with just one click away.

One click Demo import
Saving much time in setting up the site to be able to get it running within minutes after purchased. The theme comes with an XML import file to start you off with all the demo content as in our online preview. Just import the contents and you're good to go.

WPML Compatible
Sugar is compatible with WPML, a WordPress plugin for multiple languages which make your site ready to go global. Po file is included within the main file, This means you can easily host your site to people of all languages and have the ability to translate the site with any language you need and in case you don't need them, you can disable the auto language selector display and use widget instead to change the location of the selector box.

Dark and light version color skins
The theme has included 6 color skins in the package. You can choose dark for more elegant looks or change to light version for more clean and fresh. it is recolorable via theme options or WordPress customizer.

Google fonts included
The theme also boasts the easiest to use fonts. It integrates with Google Fonts for a wider range of styles. No need to try to figure out the CSS code to customize your site.

Advance custom widgets for easy configuration
Included out of the box is our custom advanced widgets which has dozens of features to choose from and help you configure the site thoroughly and faster. All options within the theme are easily accessible.

Multiple Custom Post types for easy and quick set up
With the additional post types built into the theme, you can now create Portfolio, About include Teams and Clients, and Contact. All comes with metabox which makes you easy to set up by just filling the contents and has the option to enable or disable in case you don't need them.

Dynamic sidebar
It has Multiple Dynamic sidebar so it's easy for you when you want to make changes to your websites. It allows you to change your sidebar position and flip between them with a simple click. Click here to see the image of all the dynamic sidebar available in the theme.

Shortcodes
The theme also integrated with BootStrap which provides BootStrap Shortcodes.

Recolorable Unlimited colors option
Manage the look and feel of your website easily with an unlimited colors options. Just set the colors with a few mouse clicks and you can make your site pop, or just make it what ever you want it to be.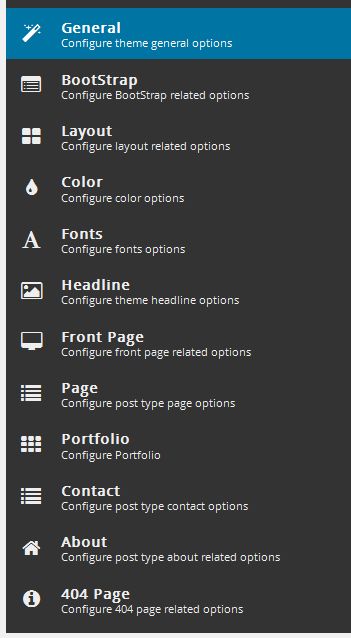 Theme options panel
This is the admin panel inside the Theme options located at the backend. Available Features The widely range of options to choose from to help users customize the theme easily. Click here for more information.

General Panel
Color Panel
Page Panel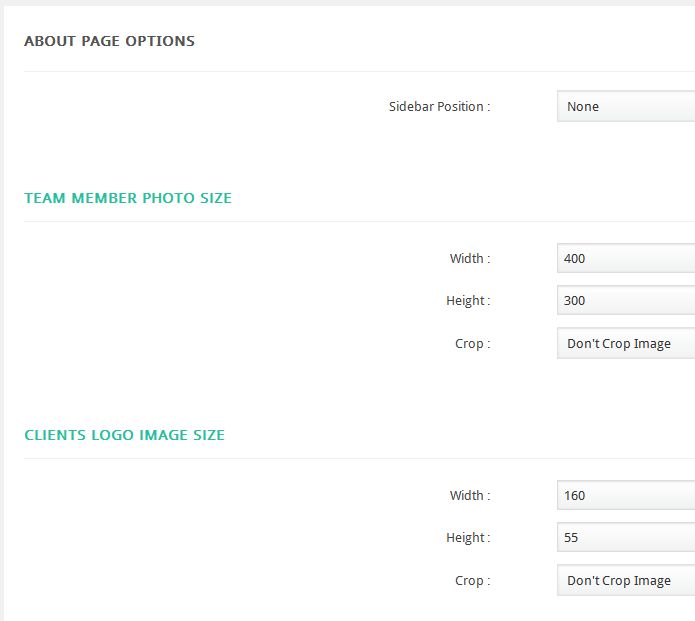 About Panel
Bootstrap Panel
Fonts Panel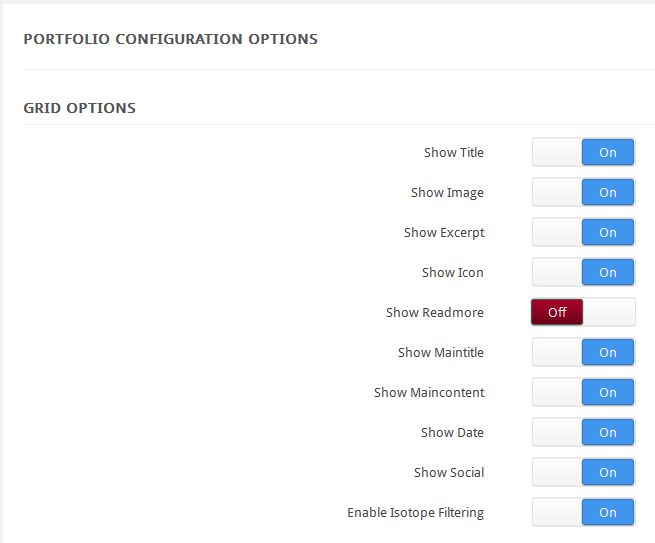 Portfolio Panel
404 Panel
Layout Panel
FrontPage Panel
Contact Panel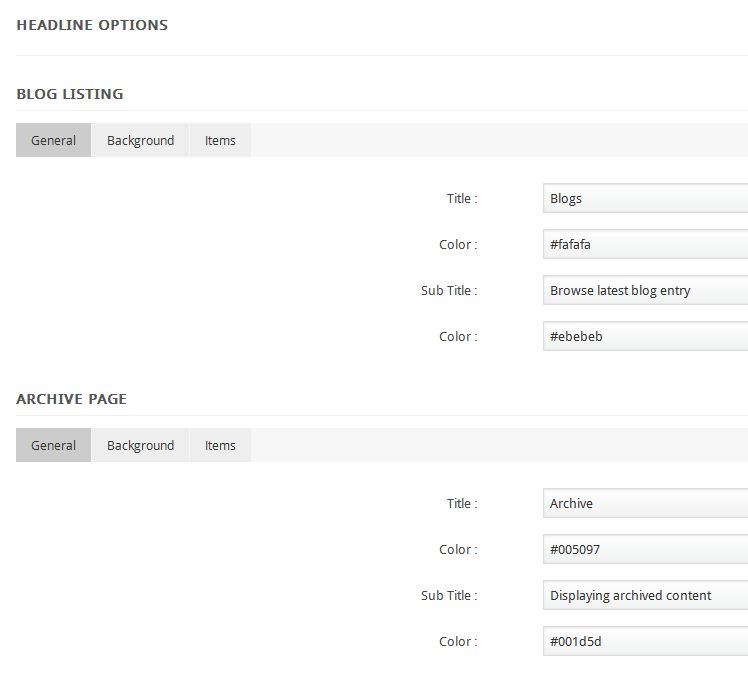 Headline Panel